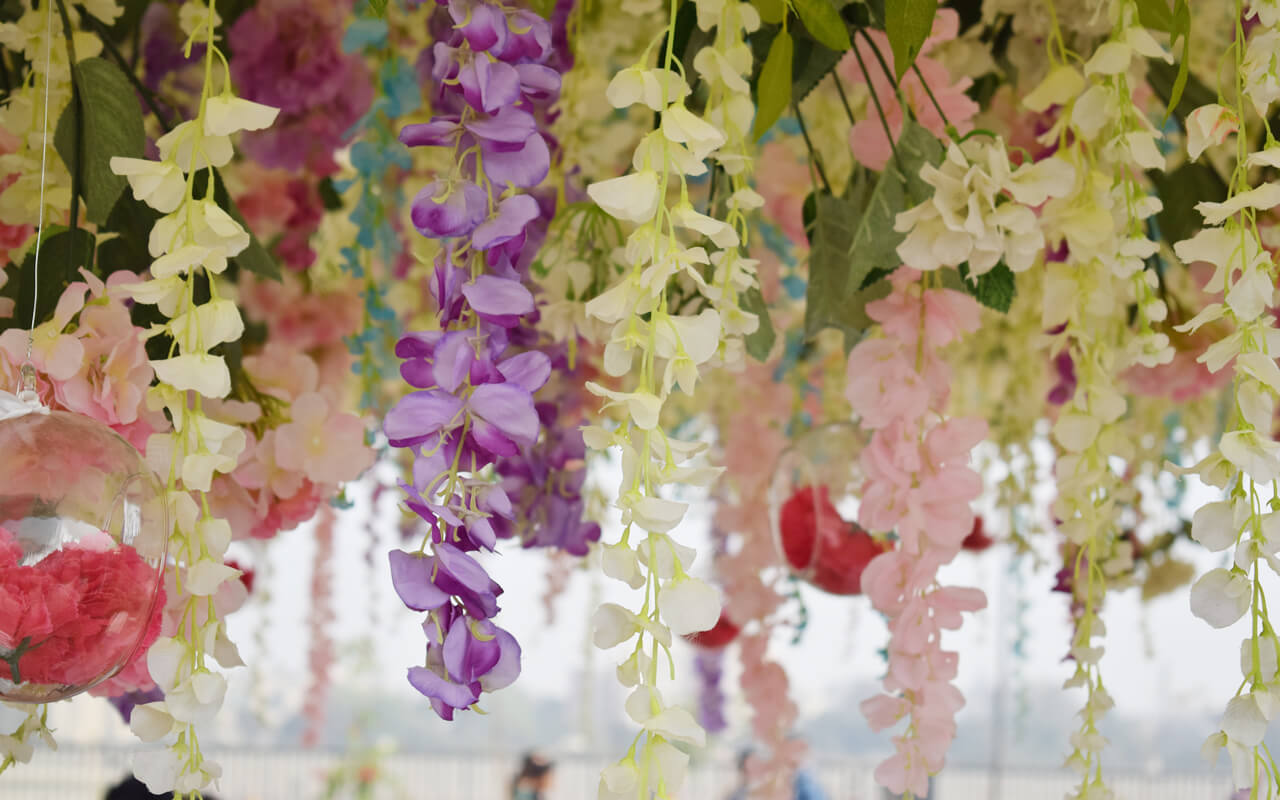 Here comes the 5th version of Ahmedabad Flower Show. The Flower show 2016 was a great success and due to it's great inspiration, the Ahmedabad Municipal Commission (AMC) has organized this Ahmedabad flower show 2017.
Ahmedabad flower show 2017 had been took place on the eastern bank of the river at the river front park between the Ellis Bridge and Sardar Bridge.
You can visit and enjoy the nature at Ahmedabad flower show 2017.
Here are some brief and also some image of my visit.
Main Attractions of Ahmedabad flower show 2017

Spread over 65,000 square meters.
More than 750 different variety of species and more than 3 lakh in number of blooming flowers, herbs, shrubs and trees
20 sculptures made with the use of gorgeous flowers and green plants which includes animal like Dinosaur, turtle and  Watch tower, Teen Darwaza (Three doors)

Real time demo of Green House Effect Model
20 famous nurseries among the city are showcasing and selling their products
20+ stalls selling gardening instruments, seeds,  machinery,  fertilizers and tools
Showcasing and promoting Eco Tourism and Awareness 
attractive Fountains

Facilities Provided
Help Desk
Sufficient Playing and Sitting Area
Drinking Water
Control Room
Medical Help
Lost Found Help
whole Area is under complete CCTV surveillance
few stores are accepting Payment using digital payment gateway like PAYTM Facility
Photography is completely Allowed
well managed Washrooms and Toilet Facility
Food Court
A.M.T.S. Special Bus For Flower Show
Ample Vehicle Parking space
Maps, Directions and Sign Boards
If you belongs to Ahmedabad or vising Ahmedabad than its advised to do visit the show. A must visit place for those who are fond of nature, Flowers, Gardening, Tree Lovers, and Photography Enthusiast.
When To Visit??
Most favorable and suitable time to visit it during Morning or at Evening for good light conditions and photograph. Even you can visit in after noon but sun is burning and hence it is not advisable.

Gallery
How  to Reach??
Special AMTS Buses are being runned which will be available at bus stations in Lal Darwaza, Kalupur, Vasna, Vadaj, Sarangpur, Memnagar, Relief Road, Maninagar and Prem Darwaza.
You can hire a cab or came by your own vehical. if you are taking cab or taxi than there will be no tension of Parking.
You can also reach at flower show by your two-wheeler or four-wheeler vehicle.
You can also take an rickshaw / Shuttle-rickshaw
ENTRY CHARGES:  Its Free…!!! No Entry Fee….!!!